<br />
It can be made not only from vegetables but also from fruits different types of pickles
You can color your tables with . There are many types of pickles obtained by keeping vegetables and fruits in a salty solution using the pickling method. Pickles, which are indispensable for winter tables, are preferred as an appetizing side dish with meals. You can buy ready-made pickles from different types, homemade pickles
You can try the recipes at home.
Different Pickle Recipes to Make at Home
If you want to get away from the classic and meet different tastes, you can pickle different vegetables and fruits. You can cheer up your tables with these pickles. You can prepare at home, very tasty and different types of pickles recommendations;
Lemon Pickles: Required ingredients for pickled lemon are 1 glass of water, juice of 1 lemon, 1 tablespoon rock salt and 5 lemon The steps you need to follow for pickling lemon;
Make deep scratches on the lemons with the help of a knife.
Fill the inside of the scratches with rock salt and place it in the jar.
Add lemon juice and a glass of water in the jar.
Close the lid of the jar tightly and shake it.
Soak for 2 weeks in a place to see sunlight.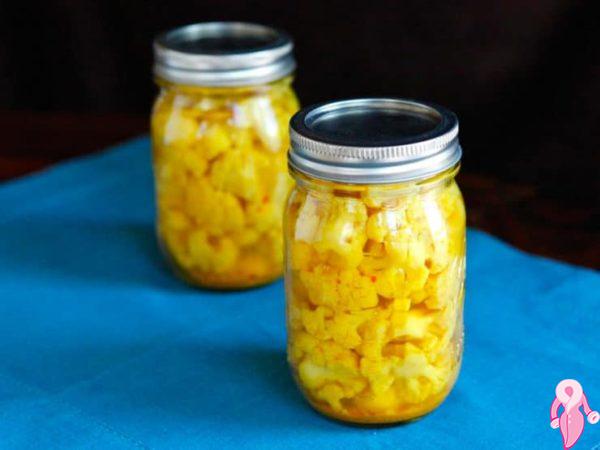 Pickled Cauliflower with Beetroot: The ingredients you need for this different pickle recipe are listed as follows;
1 glass of grape vinegar (apple cider vinegar if not available)
2 tablespoons of sea salt (if not available rock salt)
1 tablespoon of lemon salt
9 cloves of garlic
3 small beets
1 large cauliflower
1 teaspoon of sugar
2 glasses of water
The steps you need to follow for its preparation are as follows;
Peel the beets and slice them in medium thickness.
After separating the cauliflowers into flowers, wash and strain.
Peel the garlic and chop it into a round shape.
First place the beets, then the garlic, then the cauliflower into the jar.
Add sea salt and lemon salt and add vinegar and water.
Close the jar tightly and keep it in a place away from sunlight for 20 days.